Last weekend I retreated into Maybird Gulch to escape the incredible 90° weather in the Salt Lake Valley. This gave me a chance to try out some newly acquired gear. While temperatures have been incredibly warm, plenty of snow still lingers in the Wasatch – especially on the northern slopes. To keep my from plunging waist-deep into the white stuff, I strapped on the MSR Lightning Ascent Snowshoes.
I searched long and hard on the internet, sifting through review after review of all the models out there. Ultimately, I need a snowshoe that will perform on varying backcountry terrain – both packed and powder – as well as the occasional slicker icy spots. I need something rough and tough, made for taking on the most brutal of snow-covered powdery steeps. In the end, it was a great review from a backcountry mountain rescue specialist that really sold me.
Bottom line –  these snowshoes rock. Here's why:
They are light, REALLY light. I could barely tell they were strapped to my foot. I'm always big on going ultralight and making my life easier.
Traction, and lots of it. The serrated side rails, in conjunction with a double crampon claw on ball of my foot provided loads of traction on all sorts of terrain. Those side pieces really are no joke – they stopped me from sliding downwards when I was switchbacking on steep hills covered with unpacked, deep snow. Those toe spikes also gave me great purchase when I really needed to dig in.
Quality construction. These snowshoes are built with aircraft grade aluminum components and can really take a beating. I was clomping around for 8 hours, and occasionally stepped through thawed patches with rocks, logs, and other debris. My lightning ascents don't look any worse for the wear.
The Strap System. The rubber straps don't get cold and stiff, but stay pliable and allow for easy on/off while keeping gloves on.
Heel lift bar. This handy bar swings up to save my calves on prolonged steep climbs. Lift the bar with trekking poles or hands. See the image below…
Oh yeah, did I mention they are light?
These snowshoes come in a variety of lengths. I chose the 25'ers as they handle a wide range of 120-210 lbs without being too enormous. Also an FYI, I am 5'9″, weigh about 170 lbs, and carried a 20 lb backpack for this review.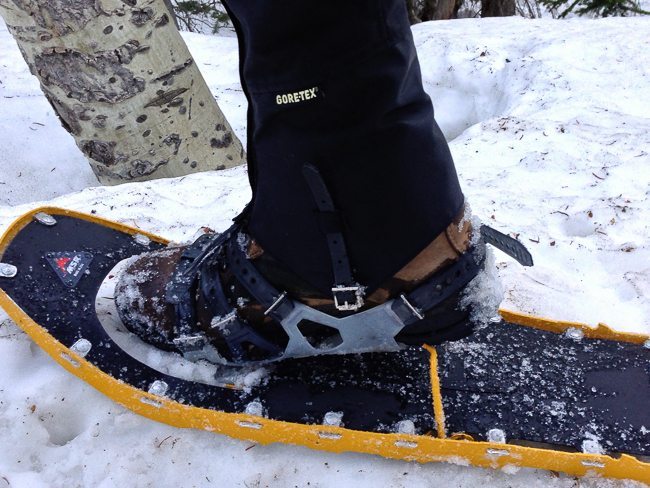 Here is a quick image from my iPhone with the heel lift bar engaged. The aid this bar provided for uphill climbs is the icing on the cake when it comes to these snowshoes. Get at me in the comments if you have any questions or experiences of your own.