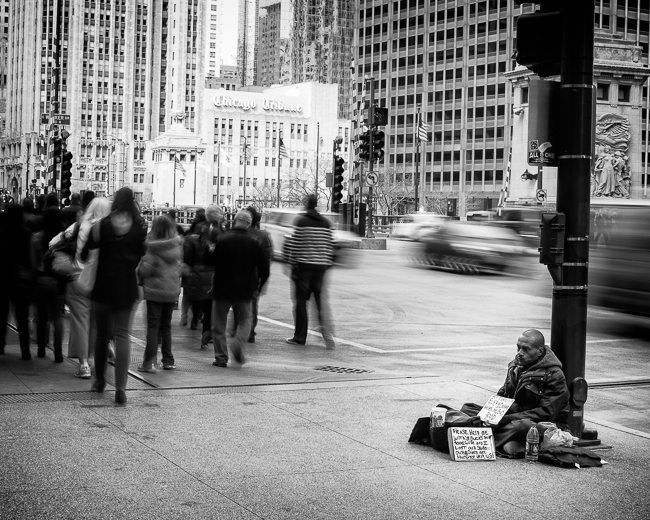 This man sits surrounded by a peculiar solitude as thousands pass him by. North Michigan Avenue is alive with all walks of life brushing shoulders. Tourists from the Far East scramble for cameras, street-side entertainers work to create large crowds, panhandlers sit with eyes longing for anything you can spare, and men and women of higher class peruse the chic boutiques along the avenue.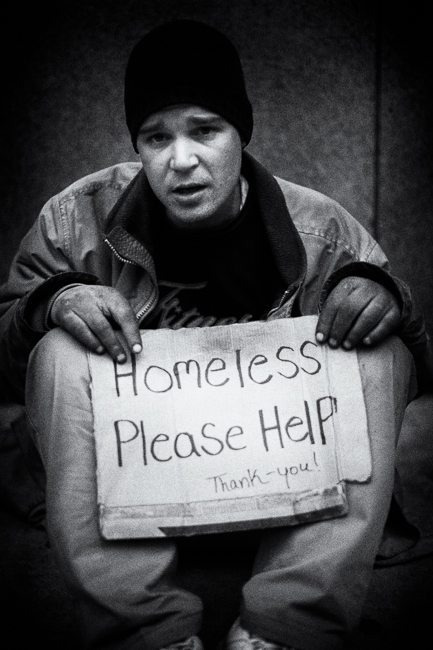 Mark, pictured above, is homeless and needs some help. I saw Mark along the side of Michigan Ave. and kneeled down to ask him his story, and if he would mind if I snapped a few photos while we spoke. Mark sold drugs and got caught. His girlfriend left him, and now he's all alone.
One pair of street performers made an interesting sight. A small amplifier pumped out jazzy hip-hop backing tracks while one man improvised on a clarinet and the other tapped out a rhythm. The duo complimented each other well – trading fours and playing (or tapping) lyrical lines.
Likely the most iconic location of Chicago is the Cloud Gate, often known as The Bean. The Bean, which was built in 2004-2006, is a giant bean-shaped sculpture of 168 stainless steel plates welded together and polished to a mirror finish. I know what you are thinking…how do they keep a giant mirror bean clean from the grubby hands of all those tourists?! According to Wikipedia, the lower 6 feet are cleaned twice a day by hand, and the sculpture undergoes a major cleaning twice a year. The Bean is very cool. It is unique, and the underside of the bean creates some very interesting and complex reflections.
If you want the Cloud Gate to yourself, I suggest viewing the sculpture either very late at night, or very early in the morning when the crowds have not yet arrived.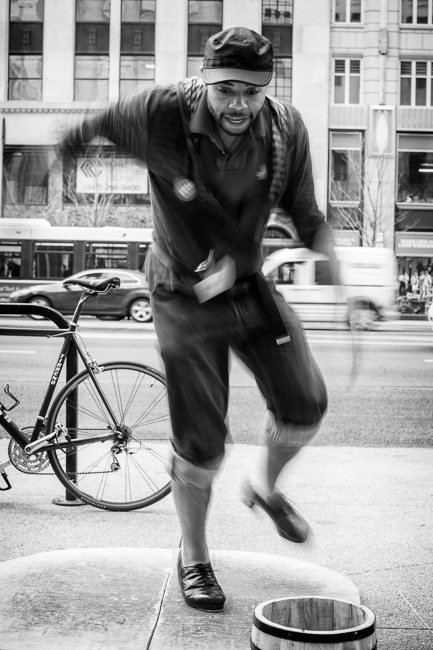 Photographing people, especially those who are clearly struggling in life, can be a difficult endeavor for a photographer. My advice to anyone who wants to photograph people is to avoid the long distance "sniping" with a long telephoto lens. A wide angle approach may help to place the subject into the context of their environment, such as the man in "Left Behind" (top), but to truly engage your subject and photograph that which makes them human, you need to look them right in the eye. Doing this without really bothering someone can be difficult, and of course the discomfort of actually interacting with someone may be difficult for a photographer used to still lifes and landscapes. But as with most things in life, if you push yourself out of your comfort zone you will absolutely be rewarded.
I'll soon write a post about this very subject, which I will link to HERE. Until then, enjoy the rest of the images from the streets of Chicago here.
Also, if you are curious, all of the images in this post were photographed with the Canon 50mm f/1.2L prime lens. This lens rocks. Its small, light, and sharp. The out-of-focus areas are super smooth and buttery and really make your subject pop. The perspective emulates that of our eyes and thus the photos lend themselves to feeling as if you are right there. This is my favorite lens for street photography.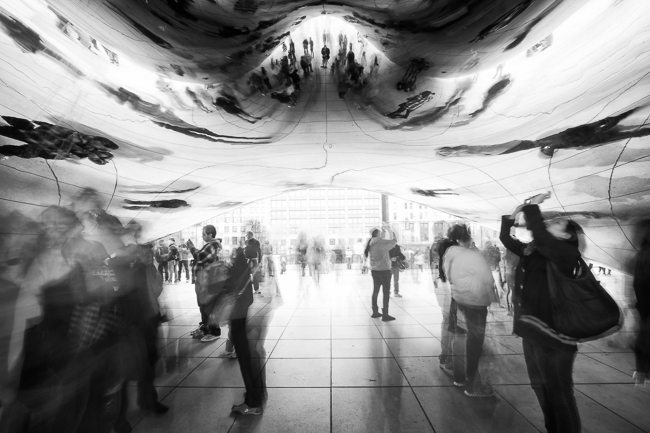 The underside of the Cloud Gate.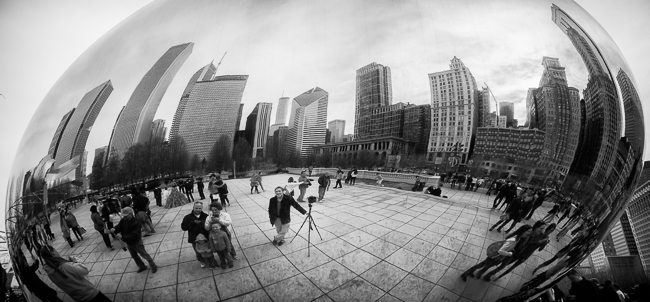 Can you spot the author?