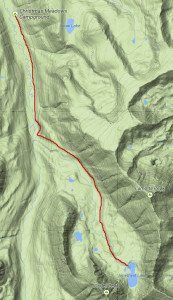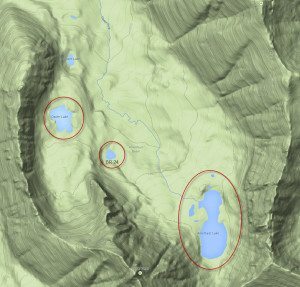 Last weekend Jhosmar and I headed to Amethyst Basin in the High Uintas of Utah. If you've looked into going up into the Uintas, you've probably heard about Amethyst Lake and the surrounding area. The lakes in this basin are a gorgeous deep sapphire that sparkles beneath a midday sun while colorful red-bellied brookies chase woolly-buggers on the end of a fly line. That might sound fantastic, and silly me, I was actually purposely avoiding the Amethyst Area because of all the attention it gets – I seek solitude, beauty, and unpressured water to fish on most of my backcountry treks. However, at only a 2 hour drive from Salt Lake City and a hike of 6 miles each way, this basin is hard to turn down. So we gave it a try…
First some logistics – the trailhead for Amethyst Basin, which is at the head of the Ostler Fork of the Bear River, is Christmas Meadows. If for some reason you have difficulty typing those two words into Google, you can follow I-80 east from Salt Lake City, then after Park City head south on US-40, and then east on SR 248 to Kamas and then east again on SR 150 up and over the pass to the sign for Christmas Meadows. The hike is approximately 6 miles each way to reach Amethyst Lake. The trail is continually uphill, as you are climbing up to a cirque at the head of the canyon, however there is only one section that is steep and strenuous. Click on the map images for a closer look at the topography of the area.
As an aside, the Christmas Meadows area looks really nice. I've never been down that road before and I thought the way the Bear River meanders through the meadows there, with tapering ridgelines on either side, was something special. I have no images of the Christmas Meadows area, and I have no idea what the fishing is like there, but if you aren't up for the hike all the way back to Amethyst Lake, perhaps you might enjoy hanging around Christmas Meadows.
Looking at the elevation profile below (roughly made from Google Earth), the "steep section" is a touch before the midway point. Before and after that section, uphill is hardly noticeable, with an exception perhaps being the final little uphill right before Amethyst Lake.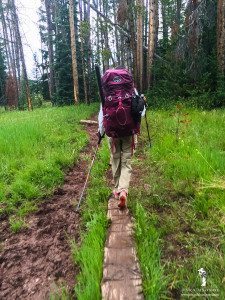 Coming out of Christmas Meadows the trail is fairly level but there can be some muddy sections. Luckily the crews have placed textured logs for the hikers to use to get out of the mud. Horses really tear up backcountry trails unfortunately.
We got out to the Uintas pretty late that day and didn't hit the trail until 6:30 PM. The hiking was nice, with cooler temps and great weather, but in the end we spent about an hour hiking in the dark. We made camp at Ostler Lake, which is up on a bench due west of the trail right after the river crossing at the big meadow. There is no trail to Ostler Lake. Normally I navigate with a topo map and landmarks, but since it was dark we dialed in a compass heading and then just blazed straight up the mountain. Unfortunately when we reached Ostler Lake it took the better part of an hour of stumbling around in the dark to find a decent campsite. The lake area is strewn with small boulders that make finding a flat, soft patch of ground pretty difficult. The next day we saw many better campsites up by Amethyst Lake and BR-24, and even down in the valley near the meadow and river crossing.
Using Ostler Lake as our base camp we headed out the next day to Lake BR-24 and then to Amethyst Lake. BR-24 is a real gem of a lake – a little round lake that is super super blue. Here is a view of BR-24 from above:
A lake with a color that pretty just beckons a hiker to its shore, so we switchbacked down the hillside to the shoreline – here's the view:
A well-worn trail leads right up to BR-24 from the main trail and there are loads of developed campsites scattered all around. By developed I mean fire circles + log benches. Unfortunately, some of the surrounding landscape takes a beating in those areas. I found grassy forest ground turned to dust, toilet paper strewn about, and even an empty stove fuel canister. Tsk tsk tsk…
Leaving BR-24 we made our final ascent up to Amethyst Lake. The trail is clear and nothing too difficult, although it does at times feel like a tease. Just when you think the lake is around the next bend…it's not. Here is a view of the final approach to Amethyst Lake:
By the way, it took us roughly 1.3 hours to get from Ostler Lake to Amethyst Lake, including a little break and exploration around BR-24. Here is what I consider to be my best image of Amethyst Lake, shot from a small hill on the north side:
Amethyst Lake really is quite large. I had read that fishing was generally best on either the east side or the southwest corner, so we headed around to the south side of the lake to break bread and then wet a line. Here's Jhosmar prepping some crackers+cheese+summer sausage, a staple lunch in our backpacking trips.
A view from the south side of Amethyst Lake. Amethyst is a pretty large lake by high country standards.
As we hiked over to the south side for lunch we noticed colorful flashes of red along the shore. Brook trout were feeding on something subsurface. We returned after lunch and tossed a couple woolly buggers in the water. It was a fun time watching several fish chase the streamer through the clear water.
I climbed up a small hill on the south side of the lake for this panoramic view. I don't think it is as great as the pano above, as it doesn't include the steep cirque that adds so much drama to the scene.
After we'd had our fill of fishing we headed back to Ostler Lake and stopped at a rocky outcropping to take the image of BR-24, shown farther above. I also took a second to capture this image of Ostler Lake:
That evening we poked around Ostler Lake with our fly rods but didn't turn up much in the way of trout. We had packed in a dinner of mac n cheese + summer sausage that tasted pretty darn good anyhow. After dinner we made a new favorite for desert – doughboys. We saw the recipe in a recent issue of Backpacker magazine. It's a pretty simple dough recipe that you then wrap around a stick and slowly heat around a fire, sort of like smores. We like to dippem in nutella when they're ready.
The sunset was fairly bleh, with a distinct lack of clouds and color in the sky, combined with just enough wind to keep the lake from giving a crisp reflection. I kept taking photos throughout the evening and then blended several images to create the one you see below:
Rarely do I ever feel limited or frustrated by my camera gear, as I generally have some of the best equipment available. I'm shooting with a Canon 5DmkII right now and I did feel a bit of frustration while photographing the stars that evening. I know how much better the Canon 5DmkIII handles low light and high ISOs, and I know I would've had cleaner results if I had that camera. In particular I was upset by the noise banding most visible in the left side of the night sky in this image. Part of the blame here also goes to my lens, the Canon 24mm f/3.5 TSE II, which is normally incredible. For night skies I would benefit a great deal from a sub-f/2.8 lens. An f/1.2 would be spectacular, though I'm skeptical of image quality at that large of an aperture. Anyhow, the image looks much better on here at 600 pixels than it does at full res in Lightroom. Certainly wouldn't want to print it….
The next morning I awoke early and photographed the sunrise, which was far more spectacular than the sunset. I've included that image at the top of this post. We had pancakes with blueberry compote for breakfast and then hit the lake one last time, and that's where we found these guys – Callibaetis spinners.
I tried a number of flies to mimic those mayflies and finally found one that worked – a sparkle dun pattern with a dark dun colored deer hair wing. The fish were gobbling them up! Here is Jhos with a nice tiger trout she caught:
All in all it was a fantastic trip. I'm really glad I went up there, and I feel crazy now for thinking about never going. This is a new favorite spot of mine and I'm sure I'll be back.